Yellow Coated Gas Connectors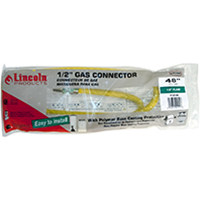 Move away from the awkward merchandising of yellow coated gas lines and shift to the clean, condensed, and color-coded merchandising of Lincoln Products' yellow coated gas lines.
Advantages of choosing Lincoln Products for this commodity:
• Enhance margin opportunity and retain competitive pricing v. big box branded programs
• All product is CSA approved
• All product is 100% Leak-Tested and rated for indoor and outdoor use
• Color-coded packaging by size with multilingual instructions
• Re-sealable packaging
• Adapters included with gas line
• Smaller/cleaner merchandised footprint
Space saving packaging allows room for adjacent items from Lincoln Products that complement yellow coated gas lines such as gas shut off valves, gas connection adapters and un-coated stainless steel gas lines. We have inventory and are ready to ship.