Nearly Three-Quarters Planning a Home Improvement Project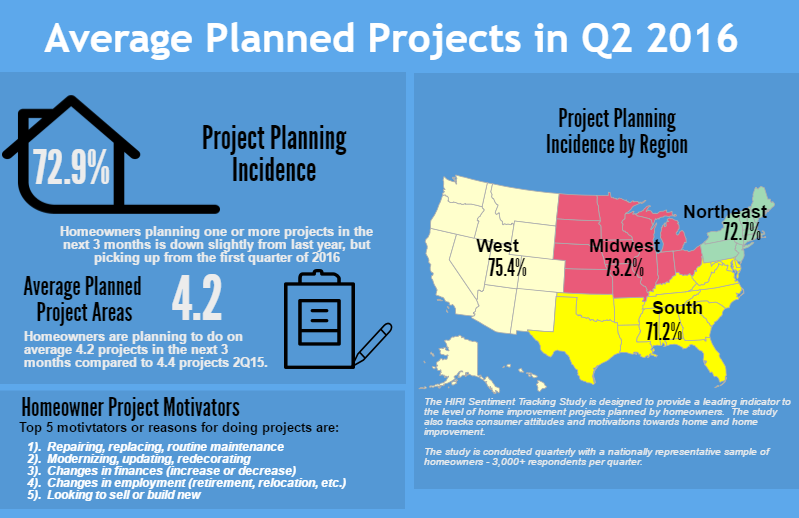 With the release of the second quarter installment of HIRI's Project Sentiment Tracking Study, we see that nearly three-quarters of homeowners are planning a home improvement project within the next three months.
Study Highlights:
The summer months are typically the high points for home improvement project planning, and this year doesn't seem to be different. The incidence rate of planned projects jumped from 65.7% in Q1 to 72.9% in Q2.
In a year-over-year view, the incidence rate has dropped slightly, but not by a statistically significant amount.
Exterior projects, like landscaping, adding a deck, or exterior painting, are by far the most popular this time of the year. Kitchen renovations are the only types of interior projects consistently in the top five across the country.
Siding and driveway/walkway projects saw a large decline from 2Q 2015, while Dining room, roof and bedroom projects saw significant increases.
Adults in their 30's and those with children are among those doing the most home improvement projects coming this summer, while retirees and single-person households are doing the least.
The top motivators for initiating a projected are routine maintenance, repairing/replacing parts of your house, modernizing or upgrading your house, and increased finances.
If you are interested in learning more information, contact HIRI.
Courtesy of hiri.org